Utah residence
Utah residence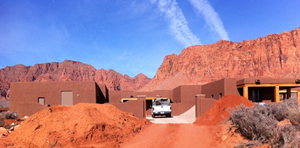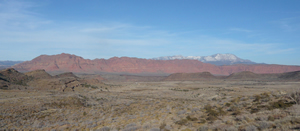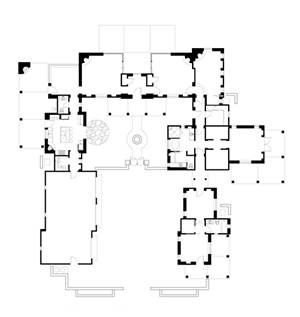 Construction on a St. George, Utah residence, designed by Archaeo, is almost complete and the owners are thrilled with the outcome. The house is a blend of southwest traditional elements and an underlying modernist sensibility.
The geometrically rigorous design is a collection of various massings arranged around a central courtyard, which itself is divided into an auto court and a private landscaped garden. The individual forms reveal the various functions of the house while also orienting to very particular views of the surrounding redrock country, as seen from the interior through generous windows or from the numerous covered exterior spaces.
Custom designed light fixtures,   doors, gates and fountain by Archaeo compliment hand plastered walls, exposed wood beamed ceilings, wide-plank walnut, tumbled brick and pigmented concrete floors. Archaeo worked closely with the client in selecting all aspects of the house, including wall tile, cabinetry, granite countertops,  door hardware and more.